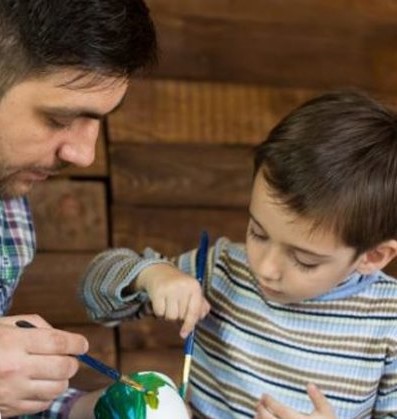 Principal stakeholders  in education, after the children themselves , are the parents. The Bible makes the assumption that responsibility for the nurture of children belongs to parents, referring to fathers in particular. For example: It is to fathers that these words are addressed:
…bring them up in the fear and admonition of the Lord. (Ephesians 6:4, Authorised  Version) or …bring them up in the discipline and instruction of the Lord.
The Psalm records this song:
He established a testimony in Jacob and appointed a law in Israel, which he commanded our fathers to teach to their children, that the next generation might know them, the children yet unborn, and arise and tell them to their children.. (Psalm  78:5-6)
The writer to the Hebrews reasons,
For what son is there whom his father does not discipline? If you are left without discipline, in which all have participated , then you are illegitimate children and not sons. Besides this, we have had earthly fathers who disciplined us and we respected them. (Hebrews 12:8–9)
Governments appear to swing from policies which on the one hand emphasise parental choice to those which on the other hand involve unacceptable interference in family life. Indeed, the same government may promote both types of policy at the same time, apparently oblivious of the absurd tension between them. If government is equivocal or self contradictory, results of research such as the Effective Provision of Pre­-school Education (EPPE) (1)  project offer clear evidence that parental nurture of children is crucial. This has been acknowledged by government departments . On the basis of the findings of the EPPE project, the Department for Children, Schools and Families ( DCSF) rightly informed us that Parental involvement in children 's education from an early age has a significant  effect on educational achievement, and continues to do so into adolescence and adulthood. (2)
Parents have no doubt always sensed their responsibility. Perhaps that natural awareness has been fed and heightened by the ' parenting' movement that burdens middle class families with a sense of duty. Parents feel obliged to read endless literature on parenting, earn enough money to buy designer labelled clothes and places at fee paying schools, charge around in cars to maintain a vacation schedule of entertainment , and have patience to indulge every childish whim and fancy. Of course not all subscr ibe to that model. Some, including Christians, will embrace different  parenting programmes,  but the end result is much the same: burden, pressure and guilt feelings .
Teachers may be plagued by parental experts in education. Their sole qualification may be that they themselves were educated – that is, they went to school and therefore theoretically know all about schooling. In fact, of course, that experience merely predisposes parental attitudes according to their appreciation of their own education. What must be admitted , however, is that parents will almost certainly be experts on their own children. They have known them since birth and parental love has focused careful attention on the little ones. Nevertheless, modern life is busy and demanding and the most motivated of parents may find themselves prevented from adequately engaging with their children's learning and development. The pedagogue desperately wants to spend time sharing about the needs or the great achievements of a child but parents may not manage to attend a parent's consultation meeting and may not appear to respond to other overtures. Frustrations not withstanding , the Christian pedagogue will have endless resources of patience, understanding and respect. It is worth making the point at this juncture that young children very easily pick up on any sense of distance between the parent and the pedagogue. Little ones need to feel the positive and sincere relationships between us and we cannot afford to cast doubt on those relationships with even a faintly disparaging facial expression or muttered word .
Having regard for the biblical role of parents in the nurture of their own children, we will want to ensure that as far as is possible there is consistency between the voices of these two great authority figures in the life of the child: parents and teachers. Of course, we have our own convictions and values that are conveyed throughout nursery life. We are not going to compromise and change our stance for the sake of popularity. Therefore it is of the utmost importance that in the information available and given to parents before their children start at the nursery our stance and approach is absolutely explicit. If the Christian message is at the heart of the life of the nursery it must be stated. If the emphasis is on outdoor activity everyday and all year, let it be known. If play-based learning is the method used exclusively it must be acknowledged . When there are muted messages on such things there are sure to be problems six months after the child starts attending. The parents may be worried about what they perceive as indoctrination, or will be concerned about colds being caught on winter afternoons in the woods, or anxious that the absence of desk time will put their child at an academic disadvantage in a competitive school environment. Our position and policies need to be very clear and explicit. Then it will be possible for the children to sense that parents and teachers are working together.
Although parents are the experts concerning the persons of their own children, they are not necessarily experts in the nurture of children. Those who are first time parents are likely to be all too aware of their own lack of preparation for the task. There has been no previous experience. We may have all been rocked in the cradle but none of us remembers it, nor do we remember that much if anything about being a toddler. In the nursery we may have children of three years, two and even younger. Parents may very well look to us for support and advice. We find ourselves in the ideal position to listen, sympathise , make suggestions and offer practical help. We need to make sure that we have opportunity and space to work with parents. There needs to be time allocated to talk with parents informally at the end of sessions, parent consultation meetings, events and forums. Some may even be in a position to allocate physical space in the form of a family room or parent's area .
We should be equipped to share knowledge and experience with parents concerning child development and educational theory as well as a Biblical perspective on the nurture of young children . Parents are subject to all sorts of potentially misleading influences on their thinking. There are fads and fashions shared among parents or promoted by the authorities. It is all too easy to be carried along by 'back to basics' talk or 'school-ification' pressures. This will be particularly true if there are specific local conditions such as the survival of the grammar school system. We may well encounter parents who urge upon us the use of desks and worksheets . We will need to be able to articulate the value of a play-based curriculum and developmentally  appropriate approaches to early education.
For many parents it is an amazing eye­ opener when we explain the learning that there is for children playing with blocks, the benefits of experimenting with sand, water or mud, or the educational value of role play. Parents begin to realise that play is not something that should be discouraged or for their children to be weaned from at an early age. We equip parents to support children's play and scaffold their learning through it.
Children are at huge advantage if their parents are actively engaged with their learning and development. The pedagogue can encourage and guide. We help parents to see their opportunities, to recognise learning potential and to simply play.
Peter Michell
(1) Effective Provision of Pre­-school Education
(2) DCSF, The Impact of Parental Involvement on Children's Education