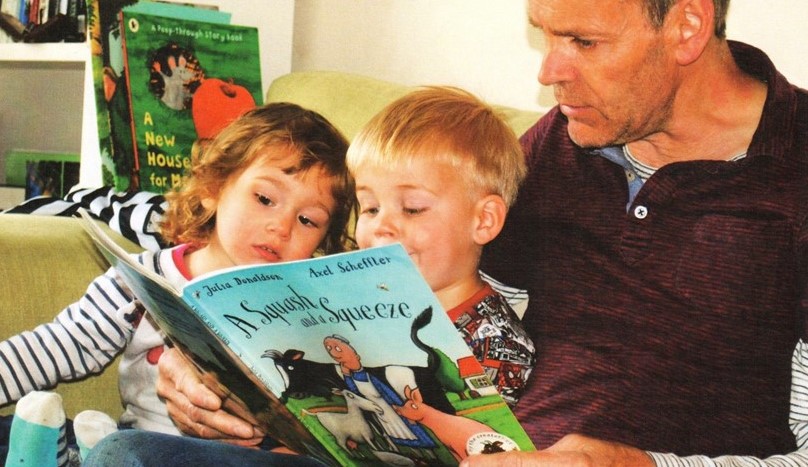 Story time, books, and storytelling are such a big part of our every day.
We may share a book together during circle time, we might read when out and about and we sometimes share an audio story in the car or retell stories before naptime. We use signs to support our stories and the children soon learn new words and signs with the repeated refrains. Our favourite story is Goldilocks and the house of the three bears.
When one child is snuggled up on the sofa with John or myself others soon join in. We can lose a whole morning to a book marathon. This is never planned and is totally child led which shows a real natural drive and interest in books. The simplicity of these occasions is very powerful. Children are learning important social skills, sharing attention and space, and in the early days very important attachments are being formed spontaneously during these close and personal times. For example, good eye contact, emotional attunement and many other non-verbal communications help to build strong attachments and safe secure relationships.
In the beginning was the Word … (John 1.1)
I always get that warm fuzzy feeling when the children read to each other and there is the wonderful sight of role reversal; the toddler that was once read to by the 8 year old now during school holidays reads a favourite story to the new babies. This is a wonderful example of the benefits of mixed aged group settings. The older child serves as a role model not only socially but academically; children are so apt to learn from their peers.
"The main thing is that the groups should contain different ages, because it has great influence on the cultural development of the child. This is obtained by the relations of the children among themselves. You cannot imagine how well a young child learns from an older child; how patient the older child is with the difficulties of the younger."
Maria Montessori
'The Big Hungry Bear' is a very popular book and the children can be found re-telling the story to each other using the story sack props. This is so wonderful to see; it really shows the children taking charge of their own learning. We also use story stones and homemade story sacks to re-tell stories in our play. One thing we have noticed with our own children and the children for whom we have cared over the past 10 years is that although children may learn adequate language through conversation, books offer more language and experiences . Research shows "children's books contain 50% more rare words than adult prime-time television and the conversations of college students; popular magazines provide three times more opportunities for word-learning than television or adult conversations (1)  Therefore children are able to see how a story may develop as well as the structure and sequence ; they begin to learn the purpose and power of adjectives. The benefit is evident in our children who are now at primary and secondary school and whose writing is well above average.
I have used programmes such as Early Talk Boost (2) to support children's communication and language skills. I saw amazing progress in a small length of time and this was all based around a simple book series and activities. One child who attended purely for these sessions improved by two development stages in the space of eight weeks ; his spoken language increased from single word utterances only understood by his mother to full 3-4 word sentences. His concentration levels also improved; he was able to follow instructions during craft activities and then take these skills out of the setting. This was something his mother had never considered possible before these sessions. This was a great base for his move onto pre-school and external agencies have commented on how this programme benefited his development.
We also use storytelling to help calm anxious children , we have noticed that at around 2 years old when language is developing alongside memory and thought processing, some children can become more restless during sleep time, trying hard to process all they have seen, heard and experienced. Re-telling the day's events helps put these memories and events into order, allowing the young child the chance to process these thoughts and experiences. This type of storytelling also helps develop strong listening skills; with no page to focus on and no pictures to support
them they have to visualise the settings and actions and create mental images. In turn they become more in tune with their feelings and memories and have the words to describe them.
Books and storytelling can teach so many things including the values of our own or of different cultures and communities . The Bible offers perfect examples of this; Daniel 6 teaches children about bravery in the face of danger and 2 Samuel 9 about compassion and kindness. Telling these stories is a powerful way to help young minds learn about right and wrong, good and bad and how we should treat each other.
Books do not only teach children the ABC; they send us to places we might never go, they teach us about compassion and empathy, they impart wisdom, and nurture belief in the unseen.
Blessed are they who did not see, and yet believed. (John 20 .29 Amplified)
Victoria Eardley-Ford
REFERENCES
Donald P. Hayes, and Margaret G. Ahrens. "Vocabulary simplification for children: A special case of 'motherese'?" Journal of Child Language 15 (1988): 395-410.
Early Talk Boost from I CAN. See http:// www.ican.org.uk/ earlytalkboost