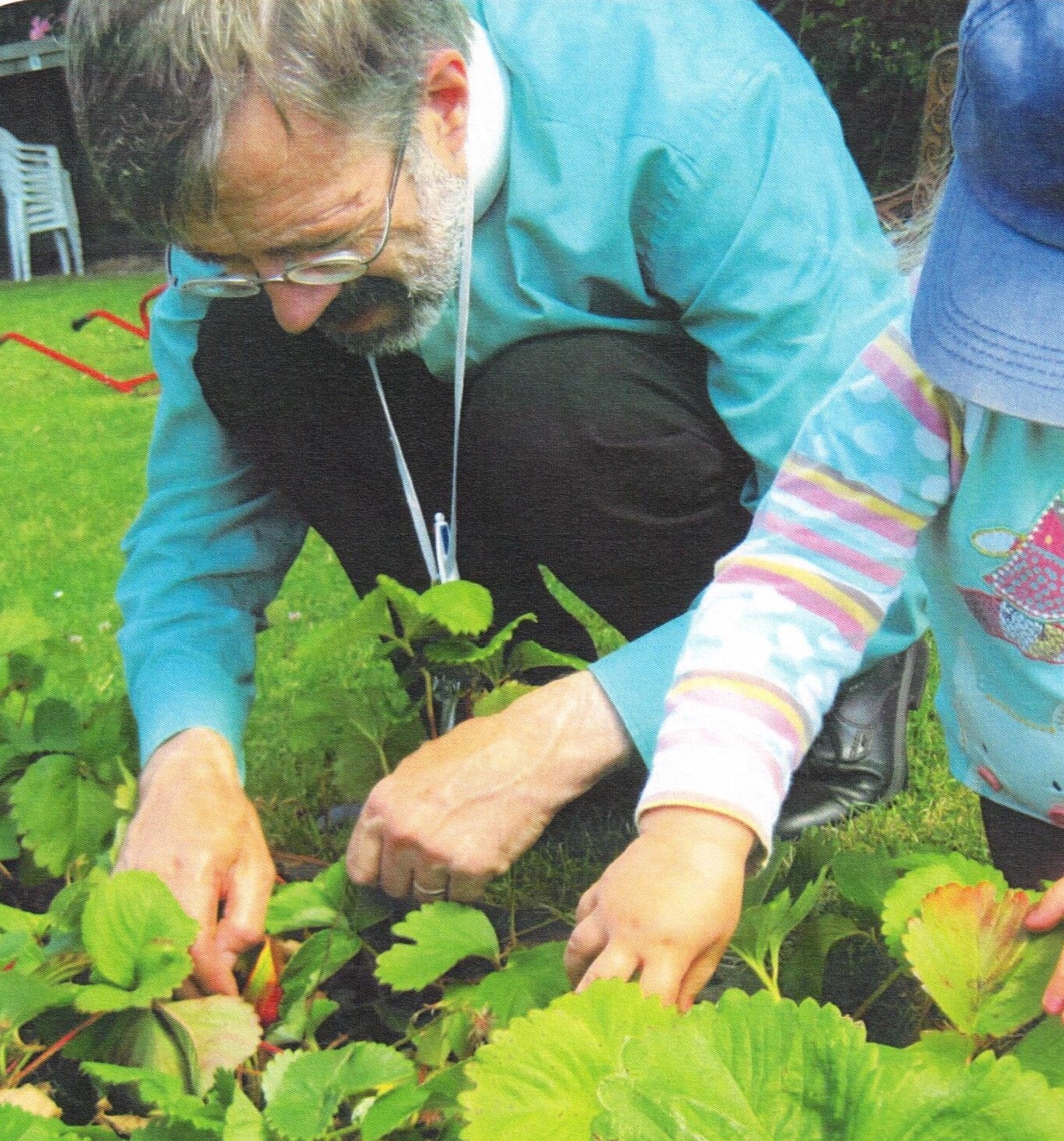 Now the Lord God had planted a garden in Eden, in the East; and there he put the man whom he had formed. Genesis 2:8
The importance of the learning environment is very widely acknowledged.  The influential ECERS pro­gramme is explicit: it is the Early Childhood Envi­ronmental Review which prompts our reflection on all that surrounds the young, from the building to the equipment and from resources to ourselves. The statutory English Early Years Foundation Stage emphasizes the place of the 'enabling environment'. Trainers like Communication Friendly Spaces, Early Excellence and Community Plaything s offer much-lauded support for practitioners to mould the environment for the young and to meet their needs.
One of the nurseries that I most admire is Cowgate Under 5s Centre in the heart of Edinburgh.  Many years ago I asked to borrow from them what now appears on their website and ours as descriptive of what we offer: 'a place where children unfold happily and busily in a carefully arranged environment, surrounded by peace and love.'
Christians will have a particular interest in the whole issue of environment. The Lord God was the first creator of environment . What He designed and made was ideal. A special location was set aside for people – the garden of Eden. What God gave us was beautiful, fascinating and inspiring. Mimick­ing the activity of God, now we devise environments. We create environments for ourselves and our families and for our colleagues and for our pupils.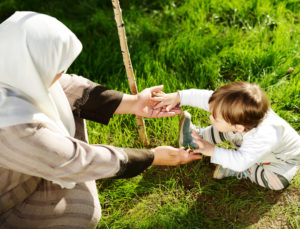 Beauty will inform the senses and respect the persons.
In the context of early education , what will be the priorities for our creativity?  What kind of environment is it that we strive to create? Surely these qualities are to be included –
Loving and secure
Safe and clean
Quiet and comfortable
Stimulating and interesting
Beautiful and elevating
We consider each of these in turn
Loving and secure. Above all, Christianity must be about love and the absence of love would seem to be a denial of Christianity.  (John 13:34)
Little ones come to us from the context of their mother's love, and their sense of security is aided by a continuity of loving kindness.  The value of Elinor Goldschmied's 'key person' is in facilitating a comparable emotional wellbeing.
After news of war and conflict around the globe, Professor Cathy Nutbrown reflects, "The events of recent weeks have prompted me to turn again to thinking about how we help our youngest children prepare for a life of peace from the cradle – and ultimately to be advocates of peace in their adulthood. Can all our early years settings give young children ex­periences of peaceful surroundings where they learn to peacefully challenge wrongs?"
One officer of the local education authority visited us and said that the love is tangible. That seemed the greatest accolade that could be offered.
Safe and clean.  Our practice and premises must be both safe and clean. Safe­ ty did become something of an obsession in schools and throughout society. Now we have begun to learn that risk is a valuable context for learning and that the benefits must be taken into consideration. Of course, we dare not expose little people to potential­ly serious physical or emotional damage, but, interestingly, excessive caution with regard to danger is sometimes accompanied by disregard for cleanliness.  The issue is one of propriety : there is a cleanliness that is appropriate to the indoor environment but which would be absurd outdoors; we have completely different expectations for the classroom and the nursery kitchen compared to the field and the woods . Want of cleanliness of our buildings may pose a health hazard, but it is also lacking in respect appropriate for the very young. There is a simple test of the environment: would it be good enough for the once little Prince William?  If not, it is not good enough for our little princes and princesses.
Quiet and gentle. Quietness is not just concerning the audio-environment but the visual also. If the sense of hearing or sight is bombarded and peace is disturbed the child will not have the space necessary to think.  Little people have an enormous amount of processing to do in their brains and that requires that they are not distracted by interruptions or uncomfortable sensations.  There needs to be gentleness about every aspect of the environment whether it is the visual impact or the personal one.  The behaviour of adults is as much an element of the child's environment as anything else. Let the practitioner speak quietly and winningly.  Let all noise and aggression be avoided.  There is a place for children themselves to be noisy and even aggressive as they play competitive games, or role-play in the outdoor environment.  But the practitioner-created  environment needs to have a gentle­ness about it.
Stimulating and interesting.   There is an over-stimulating environment which is distracting and confusing.  That should be avoided if we are trying to be quiet and gentle, but we do need to create a learning context that is rich, and inviting of exploration and engagement.  The natural environment of woodland or marshland is exemplary.  There nothing is over-stated to disturb the thoughtful mind and yet the potential for discovery is endless (for children and adults alike).  Even the natural changes from one season to another are suggestive of the way in which we can vary the indoor experience of children.  In the woods we see the green flourish until overtaken by the colour and shape of bluebells, and then all gives way to yellow as the plants die back.  Similarly our continuous provision of malleable materials will be varied as we offer sand, or rice, or pasta – natural or sometimes –  coloured or made fragrant with scents. Again, perhaps it is  the treasure basket with its attractive collection of fascinating artefacts.
Beautiful  and elevating.  It cannot be sufficiently empha­sized that young children must be surrounded by beauty. Certainly that is how God has dealt with us in nature. Let there always be flowers on the table where children eat. Delightfully Edith Schaeffer wrote: 'Instead of saying, "Oh, it doesn't matter, it's only the children", it is important to say the opposite. "I wonder what the children would enjoy the most?"'  Beauty will inform the senses and respect the persons. Aesthetic appreciation must be developed and this cannot be done with lots of cheap colourful plastic. Things brought from nature, music of quality, materials crafted and rooms that are designed for the eye will elevate the soul.
Then just think: as we ourselves have created after the example of the Father, so our children will begin to create environments too. The little people will organize furniture in a doll's house, design a special place in the home corner or den, and even plant a garden.
By Peter Michell
Goldschmied , Elinor, & Jackson , Sonia,  People Under Three, Routledge 2003 Nutbrown , Cathy, Nursery World, August 2014
Schaeffer, Edith , Hidden Art, Norfolk  1971
Ouvry, Marjorie, Exercising muscles and minds, National Children's Bureau 2008